Special Session at Gospel Industry Network Conference (GIN)
Results in Record Deal for
Leah Oduro-Kwarten and IR Music Group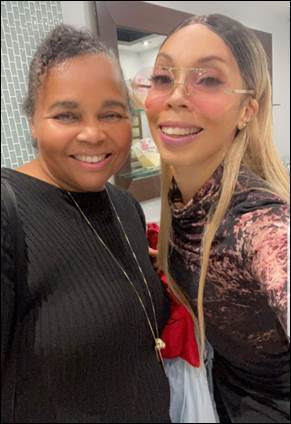 The Belle congratulates, First Lady Leah Oduro-Kwarten on record deal from IR Music Group
Miami, FL – When you work to put together a great conference, you never really know what the end result will be. That's where we are with one of the classes from the Gospel Industry Network 2022 National Conference. With so many great classes to choose from, one of the classes that changed a few lives was "Shoot Your Best Shot."  This was the class to give those who wanted to show off their chops in front of some of the top Gospel labels, and owners, five minutes to do so.  The review panel included Tyscot records Sidney Scott and Bryant Scott, IR Music Group's Norman Hutchins, Enon Music Groups own Garland "Miche' Waller and hosted by Sheilah Belle "The Belle".
"When I came up with this idea for the conference, the concept was simply to allow, some of the industries best in the business to listen first hand to talent they may not have heard before, but to also give some of these newer voices an opportunity to be heard. There were originally ten slots available, however that list quickly grew way beyond that," says The Belle.
The end result, everyone received great feedback, a few exchanged numbers with some of the labels, and of course there was that one, who stood out and that was Leah Oduro-Kwarten. Her performance was so blessed that IR Music Group owner, Norman Hutchins, offered her a record deal that very same day and she accepted.
"It was the anointing I felt from her voice as she was ministering with such a great range.  All I could think was there was a missing element and that she needed someone to write original music that married to her voice," says Hutchins.  "When I finally got a chance to meet with her, I didn't know she was a First Lady and married to a pastor.  However as of today, we have already started working. I work like Hollywood," says Hutchins.
Hutchins says that he and the Chicago native are already working on contracts and that she has also already sent him past music. "I want to take her to voice and give her music where she will be able to sing anywhere with any choir in the country. That's what I do, because I understand, if you want to give an artist longevity, give them music that the church can sing."
Hutchins knows what he's talking about too.  His long standing hits including "On the Battle Field," "Nobody But You Lord" " and "God's Got a Blessing with My Name on it" have been standing strong for almost twenty-five years with steady radio play and can be heard in just about any Baptist church on any given Sunday morning.
"Our commitment is to the artist not the record company, so we don't mind making an investment with the artist as long as it is for the kingdom," says Hutchins.