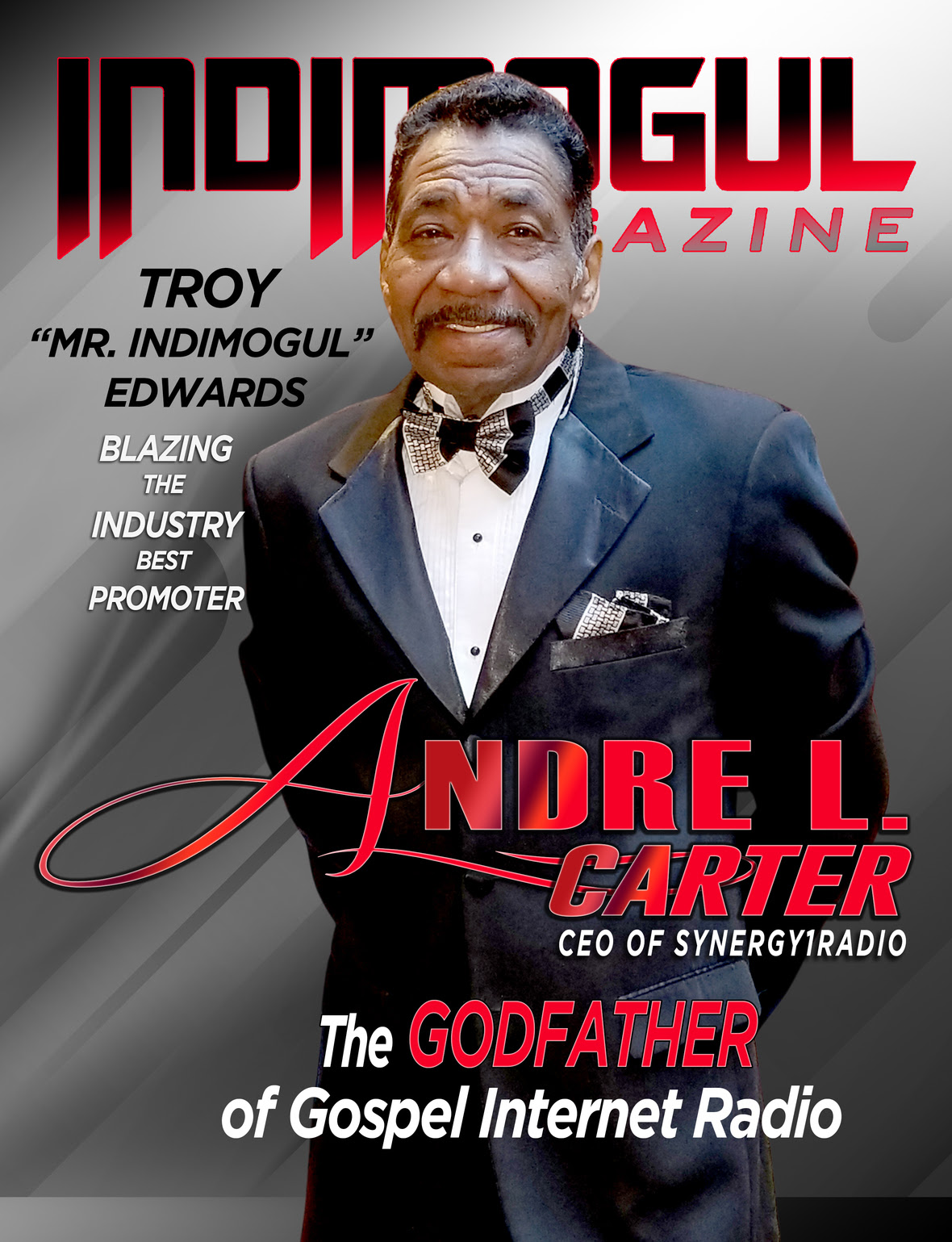 How long have you been in radio?
I was introduced to Internet Radio in 1999. I had a Gospel Show on a R&B Station from Midnight - 2 am in 2000. Sorry but I don't recall the name of the station. I was at an Entrepreneur Prayer Breakfast in 2003 doing a presentation for Gospel Synergy Magazine. After the Prayer Breakfast Pastor Nathan Edmonds came to me and said. God told him I was the person that would help him relaunch his Gospel Internet Radio Station GospelPower.fm. I had on the job training on how to run and operate a Internet Radio Station . I ran the station for 3 years. I woke up one morning ready to go to work and the pastor shut the station down in March 2006. Without any notice or call to say he was going to shut the station down. I contacted Live 365 and Synergy1Radio was birthed in April 2006 and I have been doing it ever since.
What gave you the idea to start an internet radio station at a time when terrestrial radio had a corner on the market in radio?
It just kinda happened. I had friends who were brokers and they were paying $150 a week to have a one hour show on terrestrial radio. That didn't make sense to me when I could be the owner and operate an Internet station for $150 a month. I was a bill collector for 25 years and people would tell me I had a radio voice, not knowing that one day I would be the owner of a Gospel Internet Radio Station. Live 365 was a big help. I would call them whenever I had an issue or questions. They taught me over the phone how to create shows for every day. They told me that I had to have enough content for every day of the week. So I created 8 shows a day for the week and specialty shows for the weekends. I had a total of 14 shows which allowed me to cover every category of Gospel music with a mix of of R&B as well as Jazz. I was learning how to produce shows and program the station. I was starting all over in my 40's. I did this without any college education. I didn't need any higher education. God was in charge and directing my steps.
How did you receive the name The Godfather of Internet Radio?
I met a Brother online by the name of Curtis Jones AKA Big Brother CJ. He was looking for a station for The Big Brother CJ Show. He also did radio imaging so we connected right away after a couple of months he started calling me The Godfather and it kind of stuck with me. When I started in 2003 there were 5 Gospel Internet Stations that I was aware of. Henry Harris (DC), Kevin James (Baltimore), Delroy Sounden (New York), Omar Coleman (Kansas City) and Andre L Carter (Chicago). We were the trailblazers; we were all Internet Radio Station owners. We would communicate and share ideas on a regular basis. We even had a weekly show called The Basic Foundation which was open to the public and we talked about how Internet Radio was going to level the playing field for independent artists.
What made you stop doing your magazine?
The magazine was birthed in April 1997 when I started the magazine it was published bi-monthly. I did a physical magazine for eight years. With the help of my son Gospel Synergy Magazine was one of the first Gospel magazines to go digital in 2006. I was able to publish the magazine online monthly. I went from five thousand subscribers to forty thousand subscribers worldwide. It was a challenge trying to get a team. It was a one man operation it would take 2 weeks to put it together. It was fun but it really was a challenge getting information and generating a steady stream of income. I shut Gospel Synergy Magazine down in 2015 and focused all of my energy on Synergy1Radio.

Who are your favorite Gospel artists of all times?
I don't have one favorite artist, I have many. I was around many artists starting out in the Nineties Kirk Franklin, Marvin Sapp, Chicago Mass, Ricky Dillard and the list goes on. I was able to feature the artists in the magazine as well as play their music on Synergy1Radio. It was like the best of two worlds. I was going to concerts and events all around Chicago. I became a member of the GMWA, Gospel Announcers Guild. I was going to different conferences and award shows around the country. I won a Stellar Award in 2012 for Synergy1Radio Internet Gospel Station of the Year and many awards from different organizations around the country. I had a lot of artists that became my favorites from my beginnings in the nineties.
What is the recipe for a good song?
It begins with having a good production and message in the song. But more importantly the artist has to have a budget to advertise, market and promote. Gospel Internet Radio was the new kid on the block and we were introducing new artists on a regular basis. In the last twenty years Internet Radio has helped a lot of indie artists get into the mainstream. The Internet was changing the game because there were more outlets for artists to get their music out to the masses. There were a lot of great productions that were being passed over. There were more artists than stations and if the artists didn't have a big budget they couldn't get their foot in the door. Internet Radio Changed that the more airplay artists would get the more people liked the artist and their music. Internet Radio was leveling the playing field!
What advice would you give to someone who wants to start an internet radio station?
I have shared with a few people who wanted to start their own station to make sure they have enough music and content to start their station. I recommend that they should purchase The Sam Broadcaster rather than get a service that requires a monthly payment. I will recommend the services that I use and someone who can help them get set up remotely. I tell them to create shows for 1 hour, 2 hours, 3 and 4 hours to cover 24 hours. Each show should have a name for example a Quartet Show, Midday Gospel Show, Gospel AM Show. This way the owner can add music to fit each show, they also need commercials, drops and liners. I have a few people that I can refer to help image the station. In some cases the person is more knowledgeable than I am and get set up without a lot of help.
How does it feel to know that you are a part of history that helped to make internet radio what it is today?
It's a great feeling. I started Internet Radio when many of us were just learning about the Internet. It was exciting to set up a radio station with software that was available and you could create a radio station in the comfort of your home. The first 2 or 3 years was a challenge because people had to be at their computer to listen to Internet Radio. In 2005 or 6. Technology was changing. People were able to get an iPhone or Android and listen to Internet Radio on their phones. Then came WiFi and people were able to get apps that would allow them to listen to Internet Radio in their cars anywhere anytime. Then came Alexa & Google Play. The key was to be consistent! I partnered with Roderick Carter NIARadio Network in Winston Salem, NC in 2006. He was knowledgeable in technology, marketing and promotions and I was knowledgeable in marketing & promotions. We connected and have been partners for 16 years. In 2017 we became BDS Monitored stations. There is no limit as long as a person can access the Internet we have listeners worldwide. In today's market there are hundreds of Gospel Internet Radio stations and each station has been able to establish listeners worldwide 24/7.
Is there anything you don't like about Gospel Internet Radio?
No, I'm loving it. I love getting new music everyday from artists around the world. I love the different styles and I have been able to create shows for all categories of Gospel Music. I'm loving the Afrobeat Gospel and the collaborations where artists can now reach other cultures. I'm loving Southern Soul Gospel, Gospel House, Gospel Jazz, Chicano Gospel, Old School Gospel Remakes and much more. There is so much going on and I am a part of the ever changing gospel music industry. I thank God everyday for being a chosen vessel to spread the Good News through Gospel Music. I don't have a problem telling people that I am blessed because Gospel Music is playing in my house 24/7. My home is blessed and anointed because the Presence of the Lord is forever present in my home!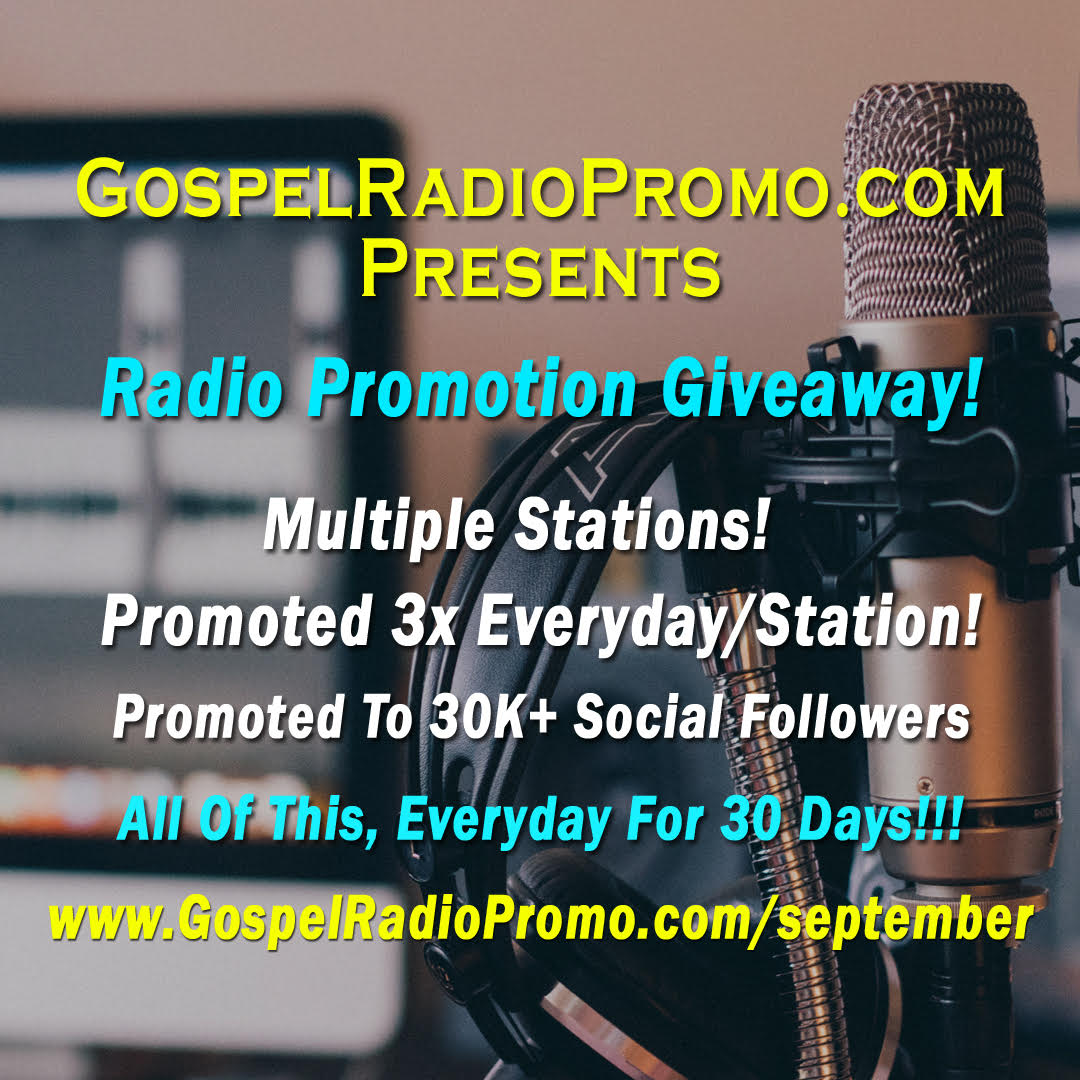 We are always accepting new music. Attached is our final promotion for Level1 giveaway for 3 winners. www.gospelradiopromo.com/september If you have any questions feel free to give me a call 708-250-7921 between 11 am and 7 pm
Submit your Single today for airplay consideration This email address is being protected from spambots. You need JavaScript enabled to view it.
Click here follow and listen to Synergy1Radio https://tunein.com/radio/Synergy1Radio-s137618/ 
Click here for Radio Promotions www.gospelradiopromo.com