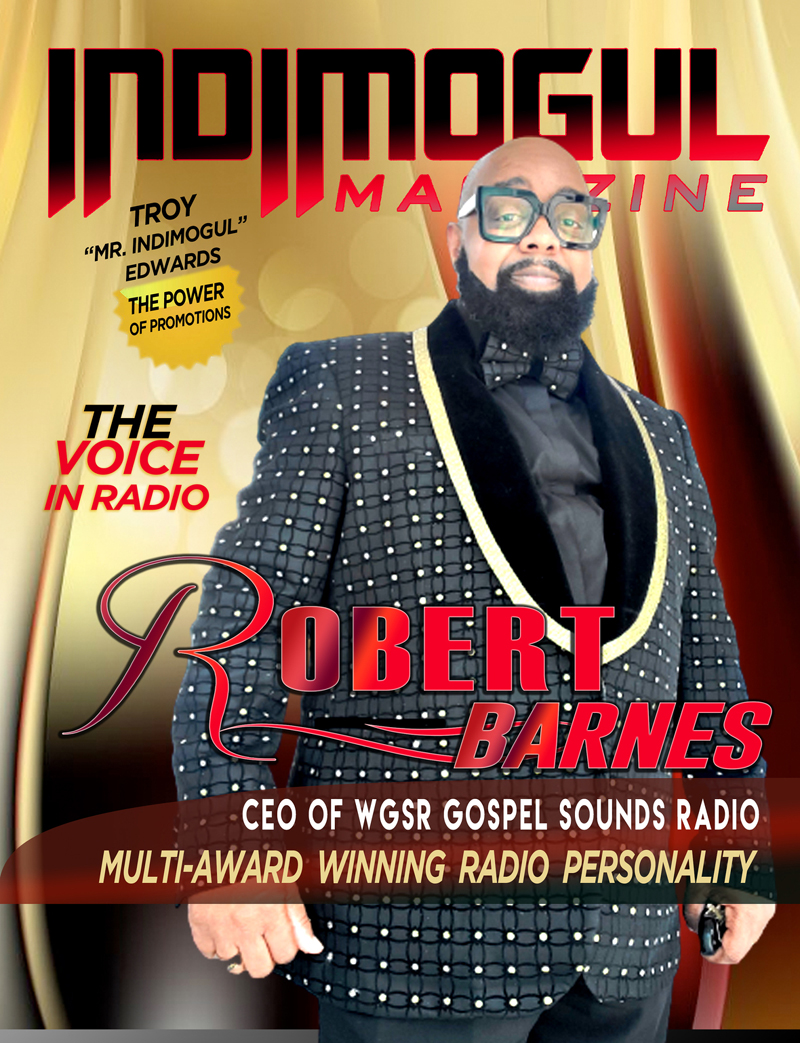 Tell us about yourself and how you got started in radio?
My name is Robert Barnes also known as The BBOY. From Birmingham , Alabama. I started my journey in radio at a small but powerful terrestrial station in my home town called WAYE 1220 AM. My radio mentor was Dr. Prince Yelder who took me under his wing and showed me the ropes.From manually queuing up albums and 45's to pulling commercials from reel to reel to cart machines. Those were the good ole days. After WAYE I relocated to Anniston, Alabama as a Juvenile Detention Officer and an evening drive time personality for WANA 1490 AM. God blessed me to continue in radio as one of the lead on air personalities at WHMA The Mighty Power 1390 AM. I relocated back to my hometown of Birmingham, AL and began broadcasting on the internet with my uncle Dr. E. LaQuint Weaver owner of WE PRAIZE RADIO, Detroit, MI. In 2019 WGSR, Gospel Sounds Radio was launched and has been an Award Winning Digital Platform since it began.
How long have you been in radio ?
I have been in Radio for 32 years and counting. TGBTG!
What artists did you listen to growing up?
Growing up in a family of music lovers I enjoyed listening to Earth Wind And Fire and all of the MOTOWN Artists. My favorite choir music was and still is anything by The Late, Rev. James Cleveland, The Mississippi Mass Choir, Milton Brunson, Olanda Draper, John P. Kee and the likes. Most of these are still on my favorites list.
What are your favorite topics that you like to cover on your radio show?
The station and all of our syndicated shows are mostly geared towards Independent Gospel Artists, but we support Major Artists as well. We take pride in offering a platform for all genres from Choirs, Quartet, Christian Hip Hop, Praise & Worship, Contemporary and Rhythm and Gospel.
What is the recipe for a good song?
In my opnion, some of the most powerful songs are the ones birthed out of experience. When you allow the pen to capture the very sentiment of your heart and the victories after the storm is when the piece transforms to a testimony that resonates with the listener. This is how hits are made. 
What things do you like to see get better with gospel artists, radio, and the industry?
Gospel Artist: More consistency, more professionalism and more education on the business and the industry.
Radio: More unity from station to station, more willingness to help and better treatment of fellow DJ's.
Industry: While embracing change, don't forget about the small stations that in many cases are the reason most artists are even ever heard on radio.
Don't forget the ones that did the legwork, there is still an important place for us at the table.
What is your mission/calling to do with radio?
To provide a digital platform that is directed and guided by the Holy Spirit, to advance the Kingdom with music and ministry and to provide a place for Indie Artists to share their ministry with the world. A Radio Platform operated in humbleness and integrity.
What advice would you give to someone who wants to start an internet radio station?
If you are thinking about starting a station, first seek God then do the research on what broadcasting service would best fit your vision. There are many different broadcasting platforms that provide a variety of different services. I'd say secondly, learn the business, be sure of the type of audience you want to target, be consistent and always operate in integrity. I'll tell you from past experience to put on your thick skin because it may look glamorous but there is a lot of hard work that is required. You will encounter situations and people that may not be pleasant or easy to work with but keep your focus on the main goal and vision and keep moving forward. There are also many rewards from spreading the Gospel over the airwaves by way of music.
Can you tell us something about yourself that people might not know?
I have one son who's now 32 years old, I'm a proud Kidney Transplant Recipient and I did dialysis treatments for 8 years before transplanted and God is still keeping me till this day. Hallelujah!
What advice would you give an upcoming artist that wants to get their music played on radio?
The first thing we look for is the quality of the recording. Submissions must be professionally mixed and mastered what we call "Radio Ready". Music submissions must be properly coded for charting purposes. Find out the type of musical format of the station you are submitting to, that will save you a lot of time. For the stations in my network we require a professional One Sheet or Press Kit, Professional Photos and CD Cover. We ask that you send everything in one email and please do not submit more than two songs at a time. Please do not send your whole project unless requested. Pet peeve: Always be personable with the platform or person you are submitting to. Greet them with a formal greeting in an email personalized to them (It's About Relationship). Quickly introduce yourself or company, state your request (full details should be in the BIO) , leave contact information and allow enough time for a response.